The news today is full of dire pronouncements about the "crisis" at the Mexico-U.S. border. In reality, there is no crisis, at least as portrayed in the press and by the Trump administration.

Undocumented entries across the border are, in fact, at all-time lows. The mass entry of migrants from Mexico seeking work is over and done with. 

The people now arriving at the border are not Mexican workers, but a much smaller number of families from Central America seeking to escape dire circumstances caused in part by U.S. military intervention in the region during the 1980s.

Given President Trump's demand for the construction of a border wall, many people may no doubt be surprised to learn that net undocumented migration to the U.S. has been zero or negative for a decade. 

Falling immigration from Mexico

All data indicate that undocumented migration from Mexico, in particular, has ended and at this point more unauthorized Mexicans are leaving the country than entering it. According to estimates from the Pew Hispanic Center, the Center for Migration Studies and the Department of Homeland Security, the undocumented Mexican population stopped growing in 2008 and has been trending downward ever since. 

Independent data from the Mexican Migration Project, of which I am co-founder and co-director, likewise show that the rate of undocumented migration from Mexico is approaching zero.

Undocumented migration from Mexico actually began to decline around 2000 and took a nosedive when the Great Recession hit in 2008, from which it never recovered.

Mexican migration ended not because of U.S. border enforcement, but because of Mexico's fertility transition. The number of children per woman declined by about 68 percent between 1960 and 2016.

As a result, Mexico has become an aging society. The population's average age has risen from 16.6 in 1970 to 28.6 today.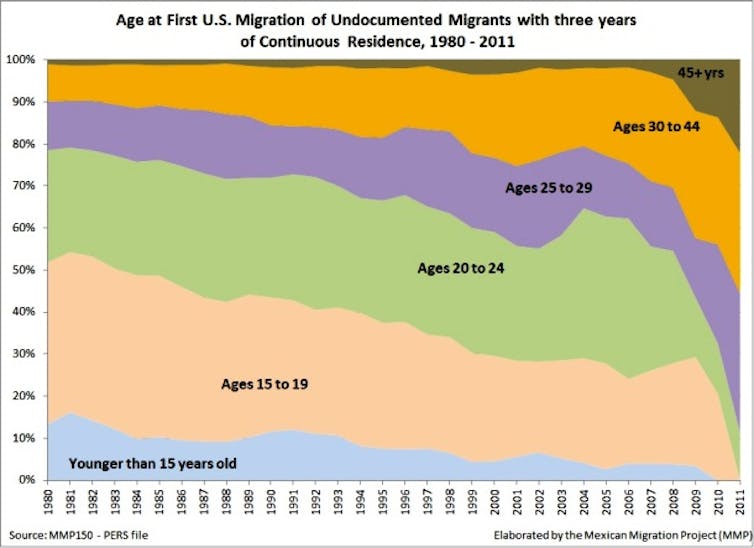 Like other demographic processes, such as fertility and mortality, migration is highly age dependent. The likelihood that someone will migrate out of a country rises rapidly through the teenage years, peaks in the early 20s and then declines rapidly to low levels by age 30. With the average age in Mexico rising and the number of people aged 15 to 30 falling, the likelihood of Mexicans migrating to the U.S. without authorization moved rapidly toward zero.

Today, Mexicans are apprehended at the border at record low levels, leaving Central Americans as the group principally seeking to enter.
  …
View source