An estimated 114 Confederate symbols have been removed from public view since 2015. In many cases, these cast-iron Robert E. Lees and Jefferson Davises were sent to storage.
If the aim of statue removal is to build a more racially just South, then, as many analysts have pointed out, putting these monuments in storage is a lost opportunity. Simply unseating Confederate statues from highly visible public spaces is just the first step in a much longer process of understanding, grieving and mending the wounds of America's violent past. Merely hiding away the monuments does not necessarily change the structural racism that birthed them.
Studies show that the environment in which statues are displayed shapes how people understand their meaning. In that sense, relocating monuments, rather than eliminating them, can help people put this painful history into context.
For example, monuments to Confederate war heroes first appeared in cemeteries immediately following the Civil War. That likely evoked in visitors a direct and private honoring and grieving for the dead.
By the early 1900s, hundreds of Confederate statues dotted courthouse lawns and town squares across the South. This prominent, centrally located setting on government property sent an intentionally different message: that local officials endorsed the prevailing white social order.
So what should we do with rejected Confederate monuments? We have a modest proposal: a Confederate statue graveyard.
Lessons from the Soviet past
Our research as cultural geographers recognizes that Confederate monument controversies – while typically considered regional or national issues – are in fact part of global struggles to recognize and heal from the wounds of racism, white supremacy and anti-democratic regimes.
The idea of a Confederate monument graveyard is modeled after ways that the former communist bloc nations of Hungary, Lithuania and Estonia have dealt with statues of Soviet heroes like Joseph Stalin and Vladimir Lenin.
Under communist Soviet rule between 1945 and 1991, Eastern European countries suffered mass starvation, land theft, military rule and rigid censorship. An estimated 15 million people in the Soviet bloc died during this totalitarian reign.
Despite these horrors, many countries have opted not to destroy or hide their Soviet-era monuments, but they haven't left them to rule over city hall or public plazas, either.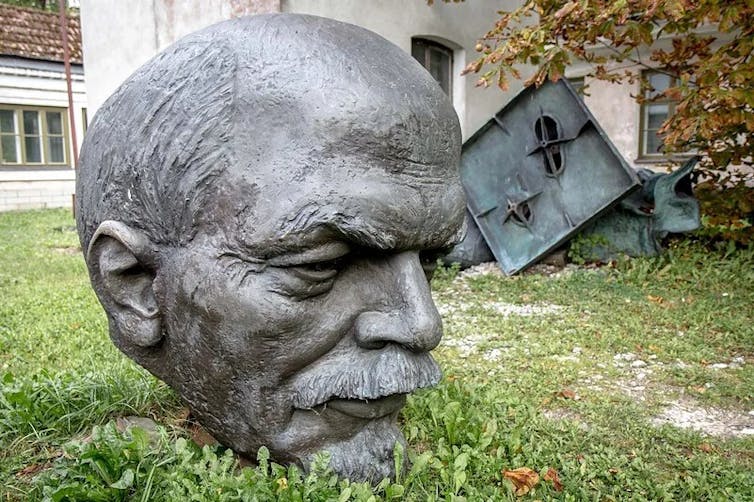 Rather, governments in Eastern Europe have altered the meaning of these politically charged Soviet statues by relocating them. Dozens of Soviet statues across Hungary, Lithuania and Estonia have been pulled from their pedestals and placed in open-air parks, where interested visitors can reflect on their new significance.
The idea behind relocating monuments is to dethrone dominant historical narratives that, in their traditional places of power, are tacitly endorsed.