Inventing Columbus
In the mid-18th century, scholars brought to light long-forgotten documents about Columbus and the early history of the New World.
One of the most important was Bartolome de las Casas' three-volume "Historia de las Indias." This book was suppressed in Spain because it documented Spain's harsh treatment of the native peoples. His depiction of Spanish mistreatment of the Indians provided the foundation for the "Black Legend." His account "blackened" Spanish character by depicting it as repressive, brutal, intolerant and intellectually and artistically backward. Whatever Spain's motives, the conquest of the Americas destroyed native cultures and ushered in centuries of African enslavement.
Another was the personal journal of Christopher Columbus from his first voyage, published in 1880. The journal captured the attention of Gustavus Fox, Abraham Lincoln's assistant secretary of the Navy, who made the first attempt to reconstruct the route of Columbus's first voyage.
Renewed scholarly interest in Columbus coincided with political motives to deny Spain any remaining claims in the Americas. Spain's American colonies declared independence, one by one, from the beginning of the 19th century. Simón Bolivar, and other Creole revolutionary leaders, embraced a classical philosophy that highlighted their Roman ancestry to a degree that "Spanish America" was converted to Latin America. The final assault came with the U.S. invasion of Cuba and the six-month Spanish-American War in 1898. Puerto Rico became a U.S. territory, and this year marks the 100th anniversary of the purchase of the U.S. Virgin Islands from Denmark.
Columbus likely would have slipped back into obscurity if not for American hubris.
The Columbian Exposition
In 1889, France put on what reviewers described as the most spectacular World's Fair possible. Held on the Champs de Mars in Paris, its crowning achievement was the Eiffel Tower.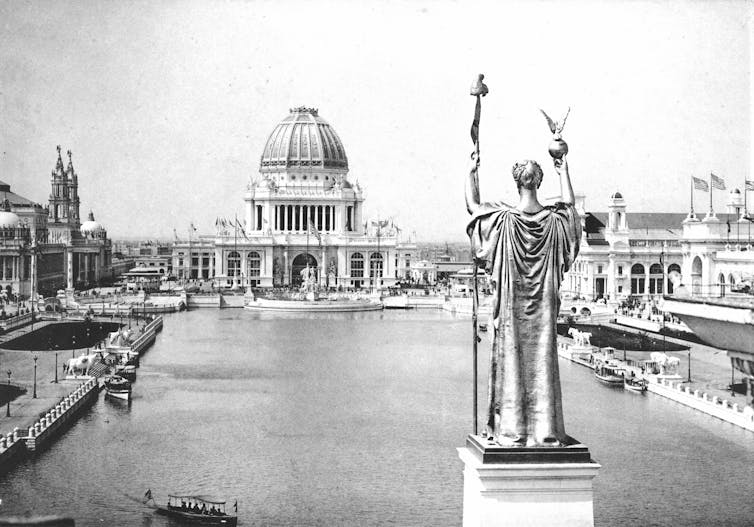 After Paris, the United States set out to prove to the world it was the equal of Europe by staging its own World's Fair. No one has claimed credit for the theme of the Exposition, but the stage was set when American writer and author of "The Legend of Sleepy Hollow," Washington Irving, attempted to revive his flagging career by writing the first biography of Christopher Columbus in English, published in 1828.
His embellishments created the great hero whose legend the fair celebrated: "He was one of those men of strong natural genius, who appear to form themselves; who, from having to contend at their very outset with privations and impediments, acquire an intrepidity in braving and a facility in vanquishing difficulties."